We are an Authorized Duradek Dealer for Sydney, Port Hawkesbury, Antigonish and New Glasgow in Nova Scotia, Canada.
Deck it Ltd: Authorized Installer of Duradek Waterproof Vinyl Membranes
Deck it: Authorized Installer of Duradek Waterproof Vinyl Membranes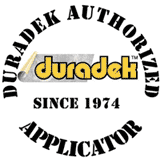 Duradek, The Original sheet vinyl membrane for waterproofing decks and balconies, was developed to solve leak problems almost 40 years ago. All Duradek sheet vinyl is designed for strength, stability and slip-resistance. Duradek waterproof vinyl flooring is only installed through a network of Authorized and Trained Installers who ensure the application is done right!
Permanent waterproof protection for sundecks, roofdecks, balconies & more
Available in many stylish colors, patterns & textures
Industry-leading 10-Year Warranty
The old liquid applied and concrete topping products were the only options previously available, and they were failing repeatedly. Property owners and builders complained about leaks, unsightly appearance, expensive repairs and time-consuming maintenance. Duradek recognized the need for waterproofing to be performed by Trained Applicators, and as result, all Duradek Dealers go through an extensive training course – Deck it Ltd. is one of those Trained and Authorized Dealers.
Featured Project by Deck it:
This beautiful new build on the gorgeous Bras d'Or Lake on Cape Breton Island has a breathtaking view with a fantastic 850 sq. ft wrap around deck. We installed the Ultra Duradek Legacy Driftwood on this project.

JOB NOTES
This spring we will be installing the Durarail railing system with tempered glass panel inserts. Be sure to check back to see the finished project.